Tech contracting offers more flexibility and challenging projects than traditional roles, especially in tech — where the most cutting-edge, dynamic experience commands the highest paychecks. Keep reading if you're ready to catalyze your career with uncapped career potential in today's job market.
Have you ever applied to a job where you need a certain level of experience, but need that job to get the experience? Building out a robust resume and portfolio takes time, as accumulating high-level projects with proven solutions require time to prove.
Once you have the experience you need, how do you create a career where you have the flexibility to work on your own schedule, seamlessly move between projects and make more money than your competitors?
For both common issues facing professionals, contracting has become an increasingly popular solution, whether they're looking for wider experience, testing out different environments, or carving their technical niche.
For technologists, contracting has gained further popularity because it allows engineers to work with the latest tech, tools and products. As developers rarely stay in a role for more than two years, staying on 3-month to annual contracts ensures that your skills don't go stale.
If you're looking to increase your 'market value,' flexibility and income, converting to tech contracting offers more short-term autonomy, coupled with greater long-term career potential, topped off with a higher hourly rate than your salaried counterparts.
Control Your Calendar
Contracts range between a standard 40-hour week to a 5-hour remote gig, with a duration of one week to beyond a year. The span of opportunities, compared to traditional roles, lend to designing and regulating a schedule that fits your life.
While contracting has flexibility it's essential to establish a lucid agreement for of the the time commitment and expectations for the role. Plus, depending on the time commitment, some contractors will work for more than one company in a week, catalyzing their resume, or work up to 20+ hours overtime for one client.

Another benefit of contracting's flexibility is the opportunity to convert to a full-time position at the end of an agreed contract. You have the luxury of committing to a team with whom you've established a positive working relationship and understand your fit with their culture. Alternatively, you have the freedom to move on without 'quitting' your job. Plus, some employers will go as far as to help you find a new opportunity, and give recommendations for the next position you're pursuing.
Expand Your Experience
If you work four six-month contracts consecutively, you'll cultivate a more dynamic skill set and portfolio compared to someone who has in the same job for two years. The more diverse technical projects shows your aptitude, and thriving in different environments and team structures demonstrate the growth of your 'soft' skills. Plus, when your contract ends, you'll be able to move on with no hard feelings, and even a recommendation.
For emerging tech fields like Artificial Intelligence — where there is a substantial tech talent shortage — you're in a position to snap up a ton of experience quickly, as companies figure out how to best scale their tech team.
If you're in between jobs, it is easier to secure a contract than a long-term position and can be the perfect stepping stone into your dream company, especially if you want some experience with a specific tech or industry.
Increase Your Income
As a rule of thumb, the more experience you have, the more you can earn. For example, data scientists who have proven success in Python, R languages, as well as a robust background in statistics, math, and computer science are more valuable than your engineer counterpart who has been doing only Python for the last two years.
Even though you make more on an hourly basis, some potential contractors may be deterred by the idea that you're not a 'salaried' employee, but hourly contractors often take home a higher rate than permanent employees, plus 1.5 overtime beyond 40-hour weeks.
A rule of thumb to compare hourly rates and salaries: double the hourly rate, and multiply by 1,000. For example, a $40/hour role roughly equates to an $80k salary.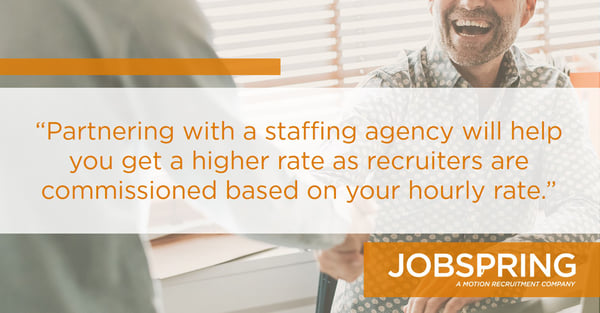 By partnering with a staffing agency like Jobspring, they'll help you get a higher rate, as recruiters are commissioned based on your hourly rate.
For employers, contracting has become the strongest solution for staffing needs, whether they're scaling their tech team, or covering for vacant in-house positions. Additionally. they may hire you as a subject matter expert to complete a specific project on a more consultative level. Because they're not committing to a long-term employee, there able to offer a higher hourly rate since they're not offering you a 'long-term' position.
Boost Your Benefits
Independent contractors file a 1099, which is paid out without any withheld taxes. If you're working with a staffing agency like Jobspring, you're technically hired by the agency, but work out of and report to a client's office. The agency will pay you weekly with a standard tax management, health benefits, a 401k and more.
Conclusion
If you're looking to broaden your experience, diversify your skills and get perspectives of different management styles, company cultures and practices, contracting might be your calling. With a long list of references and experience, you'll be a stronger perfect candidate.
Partnering with a specialized recruiting agency like Jobspring Partners ensures you get the best offer possible, and maintaining open communication with your recruiter throughout your assignment will lead to optimal results onsite.