Running a sales and recruiting team comes with many challenges; keeping up on technology trends typically falls on the back burner for most. However, those who keep up with the 'latest and greatest' trends have the upper hand in educating those you are assisting with their search. The UI/UX design world is no exception, with 88% of young adults being connected to a smartphone it has become imperative to deliver the best user experience to compete. (Creativeblog)
2014 brought us design trends like: The hamburger menu, pushing the limited when it comes to resolution, and the expansion of in-house design teams. With the end of the first quarter on the horizon, I thought it would be a great time to discuss a few of the design trends we will be seeing in 2015.
Ready to hire for your next tech positions?
Skeuomorphic
Lean design has been leading the way in recent design trends. This will continue, but as companies and designers continue to hone lean design and how it lends itself to mobile applications, they also need to set themselves apart. In 2015, we will see (and we have already started to) skeuomorphic cues in lean design. Keep an eye out for additional physical presences; transparency and layers will become more common, apps will continue to look flat and conform to strict grids. The focus of design will revolve around movable objects within the screen. In the summer of 2014, Google transposed this design trend on Material Design.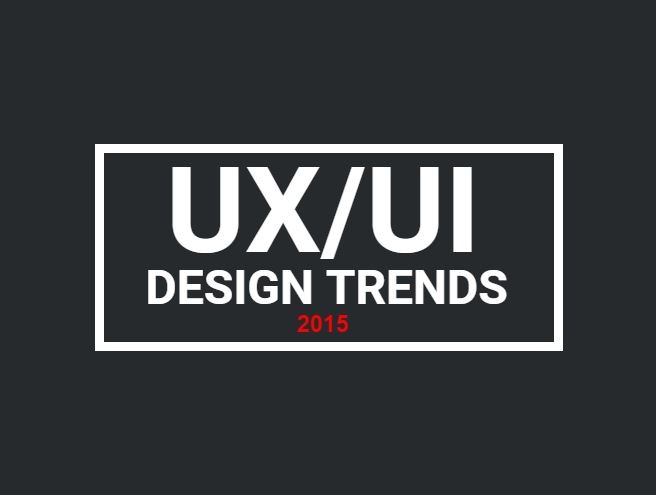 Slippy UX
I am definitely guilty of (over) using the term sticky or stickiness when talking about design. I like the idea of creating applications that not only engage a user on their first use, but also ones that keeps the user interested over extended periods of times or uses. The more our devices become connected to our everyday lives, i.e. thermostats, home security, or digital experience with our cars, the greater the need is for efficient and effective delivery of information. Slippy UX is giving the user an application designed for "glance-ability". Coined by Jake Zukowski, Assistant Creative Director at Frog Design, "slippy UX is intended to be invisible-enough and non-distracting enough for the user while still delivering and absorbing information".
Connectivity
There are two emerging trends in connectivity, the first being something more apparent every day, even if we are not aware of it. The ability to send information to many devices, syncing with the cloud, and allowing users to maneuver their information has already started to be a driving force in design. Forrester Research found that 90% of users who own multiple devices start a task on one device and finish it on another. In 2015, we will see user experience that functions across all platforms seamlessly, regardless of device or screen size. The second connectivity trend will be an extension of what some of our mobile apps already do: accessing GPS and Bluetooth to respond better to user needs. The combination of these integrations, wearable technology, and the Internet of Things will result in apps that collect data on the user to deliver advice and infer when the device should be delivered. The term to look for here is Ambient Intelligence.
2015
With worldwide IT on track to spend a total of 3.8 trillion in 2015, we will see the above trends and many more, become apparent in our every day lives.(Gartner.com) What trends are you excited about in UI/UX Design for 2015?