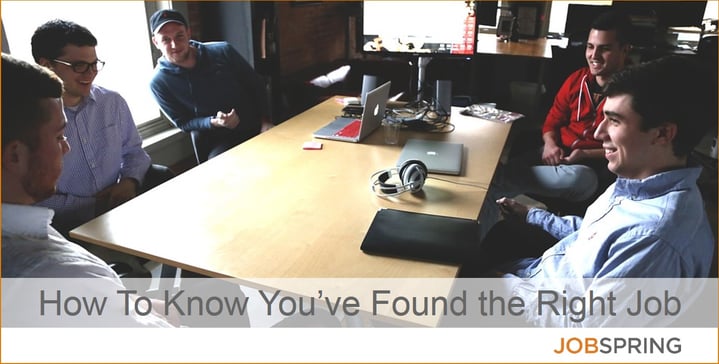 How do you know when you've found "The One" in your career? Should you accept an offer, or is this not a long-term match for you? Like finding that perfect "one" in your life, finding the right job has its own checklist as well. Here are 6 top areas that most tech professionals can match their desires up with in order know it's the right offer and the right company:
Company Culture. Seeing how your significant other interacts with family and friends can provide a window into whether it will be a lasting relationship. Similarly, knowing how a company treats their employees will give insight into what your office life will be like on a day-today basis. Furthermore, how people communicate and work together is crucial, since that's the atmosphere you'll ultimately need to communicate in and work with. Take a look at the environment and how the office is laid out; it can be a big factor in finding a place that not only fits your personality but your needs and desires as well. Do you need a collaborative, open workspace or a quiet, secluded area to concentrate? Another aspect to look for? Humility: a company with little ego is less likely to put their egos before the employees. The right job will allow you to voice your own opinions when needed.
We treasure workplace culture. Check out these IT jobs where culture is key.
Personal Goals. Even before you start your job search, sit down to think about your personal goals, values and what makes you happy. Once you access that, start looking for jobs and going on interviews, and ask yourself, "Does this company align with my values and goals?" It's easy to get caught up in the red carpet treatment. When companies want to "woo" you, they'll offer you all the good things: free lunches, dinners, drinks, etc. However, that celebrity treatment will eventually fade away, so don't get caught up in all the flashy things. The right job will be lined up with your values and goals, which will make you happier in the long-run.
Mission and Outlook. When you find the perfect person you often envision your life with them five or maybe ten years down the road. It's the same with a job. You have to envision what the next few years will look like with this company. How are their stocks looking? (Or maybe they're a startup and not publicly traded.) How much funding do they receive? All these questions can help you anticipate how the company will look in five or ten years. You want to make sure the company you're working for is in a market where they can expand their product and grow. The right job will have a good outlook for you in the next few years, without worrying about the company heading in a different, more volatile direction.
Work Life Balance. Balance is everything in life. There's work life and then there is life outside of work. The right company will give you the best of both worlds: the ability to live the life you want and be able to do the work you love. Sometimes those two can be one and the same. Many companies, especially tech companies or startups, require a lot of around-the-clock work, and that might be your cup of tea. Either way, the right job will align with how you want to live your life.
Is work-life balance important to you? Here are some tech jobs where it's a priority.
Growth. Finding the one – the job or love of your life – can have the same goal at the end of the day: both make you want to be a better person. The right job will enable you to grow professionally and personally. You should be able to climb the corporate latter, not feel stuck in a bad relationship with your company. Growing and learning is important, so you should be able to find ways throughout your job experience to continuously evolve.
Innovation. Innovative companies will have new ideas they want to implement, or aggressive updates on current product offerings for continuous improvement. You should feel excited about the project you're going to work on, the new technologies you'll be faced with, and all of the things you're going to learn. You probably don't want to be part of a stagnant company with an existing product that they do nothing but maintain; these aren't going to be the type of companies that can adapt to the constantly changing environment.
Want to find a job that's the right match for you? Start with these job search resources: