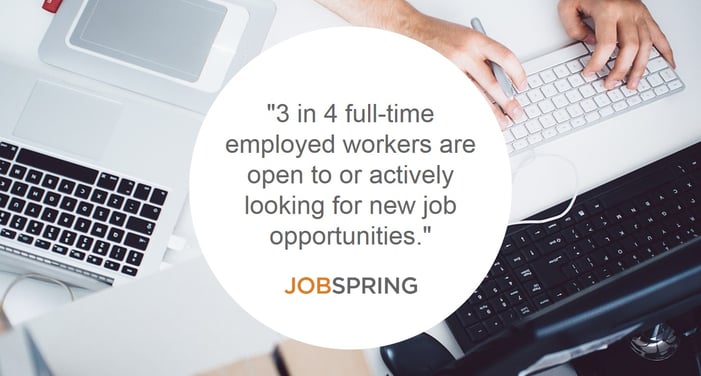 When you're in IT, it's all about approaching systems proactively versus reactively. Why not approach your career the same way? Competent employees can get unexpectedly laid off, office environments can erupt without notice and life circumstances can suddenly call for a change. According to a 2015 CareerBuilder survey of 5,000 candidates, "3 in 4 full-time employed workers are open to or actively looking for new job opportunities."
Don't be caught desperate to find a role if you're the one in four not looking. If you're not completely happy at work, be proactive going into 2016 about exploring your options and job searching. Below are a few key reasons why you should be looking for a new role when you're still at your current employer.
Time Is On Your Side
How long could you support yourself and your dependents without a steady paycheck? That time frame is the maximum amount of time you have to find an adequate position once you've left your current position. If you start looking proactively while you're still at your current employer, your time frame for taking a new role is exponentially expanded. This way, you can focus on finding a position that you're excited about and one that will fast-track your career, as opposed to one that will simply pay the bills.
Start now by checking out some tech jobs on the Jobspring Job Board here.
No pressure, you're already viewed as an asset!
Many hiring managers believe the best candidates are the ones who are actively working. Employed candidates are viewed as being proven assets. Where does this mindset come from? Well… have you ever wanted or needed something so badly that when under pressure, you've completely botched your attempt to get it? Unfortunately, this happens all the time during interviews when you're facing unemployment. On the other hand, if you begin your search while you have a comfortable employment situation, you take significant pressure off of yourself and lessen the likelihood of self-sabotage when interviewing for a new role.
Get What You Really Want
As a passive candidate, you're interviewing the company as much as they're interviewing you! The ball is in your court, and potential employers will be more willing to roll out the red carpet for you. Hopefully your skillset will land you a role that will move you in the direction you've always wanted to go. If there is a specific technology you've always wanted to work with or a cutting-edge industry you're passionate about, this is an opportunity to ask. As a passive job seeker, you can be more selective with the companies and roles you'd like to interview for. You have more control of your commute range, the tool sets you work with and any other job factors that are important to you.
Room to Negotiate
Lastly, you'll have more control of dictating what your final offer will be. Simply said, what will it take for you to leave your comfortable role to start at a new and exciting company? Everything in terms of compensation should line up— don't forget that salary isn't everything. Instead focus on the total package the company offers. Not only will you have the upper-hand on getting a higher hitting salary range, you'll also have leverage to get additional vacation time, flexible hours, stock options and a myriad of other perks that are possible in an offer.
So if you're not in an absolute ideal position, make sure you keep your eyes and ears open to new and exciting opportunities. You can always call a local Jobspring recruiter and tell them exactly what your current situation is and how you'd like to be kicking off 2016!
Not convinced? Here are 6 more reasons to start working on your resume now.